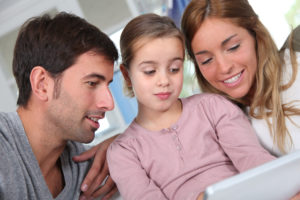 Looking to infuse your child's day with a bit of enrichment, but short on time? Nowadays, a parent's schedule is jam-packed with obligations. Still, finding time to actively expose your child to new and interesting concepts is crucial. We have compiled three 10-minute ways to enrich your child's day, regardless of whether they are in elementary, middle or high school. Let us know how you like them after you give them a try!
A fabulous resource to pique your teen's interests in a short amount of time is TED.com. TED talks are short speeches given by experts on nearly every topic under the sun, from what it's like to be a robot to the power of introverts. TED believes in "ideas worth spreading," and features virtually endless content on their platform. The best part about watching a 10-minute TED Talk is that the tone and subject matter are completely up to you and your child. Wanting to watch something more creative and funny? There is a TED Talk for that. How about digging into a more serious, political topic? TED has what you are looking for. Use these short, engaging talks to springboard a conversation about new and interesting ideas. Who knows? You may learn fascinating new things about yourself and your child in the process.
Puzzles are another foolproof way to enrich your child's say without devoting extra time to prep and protocol. You can find dozens of crossword puzzles online or pick up a crossword puzzle book from the store. It presents an opportunity to learn new vocabulary, reinforce spelling and to explore the concepts related to clues and keywords. The big draw? Crossword puzzles have varying levels of difficulty, so you can utilize this tip with a child of any age. Crosswords not your cup of tea? Give word searches, sudoku, mad-libs, riddles or any other brain teaser puzzle a shot, and watch the enrichment blossom.
Finally, the most tried-and-true type of enrichment on this list is reading aloud.  For younger children, reading a fictional chapter book like The Princess Bride or the Harry Potter series are great for teaching your little to stay engaged in a longform narrative, and to retain information. Interestingly, many parents stop reading aloud to their children once they reach the age where they can read on their own. However, studies show that reading aloud to teenagers has a positive effect on their opinions of learning and their perceptions of reading overall. At the middle school level, children respond positively to reading texts designed for oral presentation–like plays, poems and other rhythmic literature. For high school kids, change up the routine by having them read to you. Teachers have found success by enriching concepts like the Vietnam War through having students read letters from people living during the war. As it turns out, reading more personalized material it enlivens the historic event and grounds it in a human point-of-view that textbooks lack. Going back to the basics and finding ten minutes per day to read with your child is an worthy investment in your child's education that you will not regret.