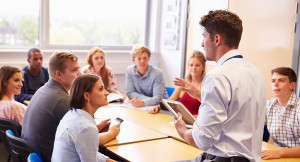 As you are preparing for college you may ask yourself if you are ready to take your ACTs or when most students take them? There are many things to consider when deciding when to take ACTs.
It is not uncommon to see students take their ACT 2 or 3 times to try and improve their test scores or to get their score where they want it to be. Most students take the ACT test in the fall of their Junior year and then again in the spring. Then following up by taking it for the final time in the fall of their senior year. This schedule works for most students but not all. This is seen mostly with student who are preparing independently for the test. The ACT is offered 6 times in a year, in September, October, December, February, April, and again in June.
If you chose to take the tests multiple times, you will need a realistic amount of time between tests to study and prepare to actually see improvement in your test score. Do not put if off to the very last date to give yourself a cushion in case you have an off day or get sick and are unable to make it to the test for whatever reason. If you are planning on taking the ACT early, remember to start your test prep early.
While the ACT covers more advanced math than the SAT. The test also has a science section, but it does not require knowing information that only upperclassmen know. In fact, you have learned enough for school skills and knowledge as early as your freshman or sophomore year. If you take advanced math courses like precalculus or calculus, you may have to go back and review algebra and geometry because you may be a little rusty.
Another benefit of taking your ACT early is that you may have more time for studying for it because you won't be preoccupied with college applications, AP classes, varsity sports, community service, or any of the other activities in which you get involved.
There are reasons that you would not want to take the ACT early and the main one is lack of preparation. It is not a good idea to take the ACT with zero studying. If you take the ACT the first time and use it as just a trial run, you may have issues getting your scores if the committee sees too high of a jump in your score or sense inconsistencies in your test scores. Especially with recent security breaches around the ACT and SAT, these organizations carefully monitor any hint of foul play.
I would recommend not taking the test to many times, especially more than 6. Taking it any more than that and you start to send a message to the college that you are not putting in the effort when it comes to preparation or are struggling to achieve the score that you want.
Find a good balance between good test prep and leaving yourself with enough test dates to still hit your target scores. Consider taking a good test prep course to help you achieve your results.
One way to properly prepare for your college testing is through taking an ACT test prep class. These are wonderful classes that allow you to prepared properly and keep you from taking on multiple times. Test prep classes are offered by Elite Home Tutoring, along with others companies.