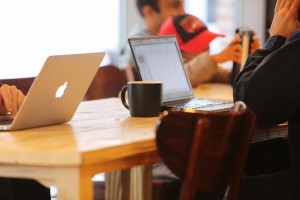 Congratulations on your decision to go to college! It is an exciting time in your life, that may also a stressful one. There are many important areas to consider when you begin to think of the best way to be ready for college, as a student. 
Preparing For College Means Two Things:
Be Prepare To Work Hard

Be Prepares To Take Time Inside & Outside of School To Explore Your Career Interests
A strong academic foundation in high school improves your odds of getting into a good college. During high school, focus on completing the following:
1 year of High School Physics

1 year of High School Chemistry

1 year of High School Biology

Math (up to Calculus)

2-4 years of a Foreign Language

4 years of English

2 years of History and/or Social Sciences
To create this foundation, take at least five solid academic classes every semester. Start with the basics, and then move on to challenging yourself in advanced courses.
Most colleges require students to meet certain college prep curriculum standards, so just meeting the minimum is not necessarily the best way to prepare for college. Make sure you check to see what your college of choice requires. Strong preparation means going beyond the minimum.
Colleges also expect students to have interests outside of academics. Sports and other extracurricular activities show admission officers that students are well-rounded and can contribute to life on campus. Volunteering or working part-time also indicates a sense of duty and commitment, further proof that students are ready for the responsibilities college entails.
It takes a lot of work to prepare for college admission. With a little effort and time, you will do great. Remember to choose extra curricular activities that you enjoy to show how unique you are.