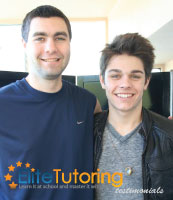 Elite Tutoring is an outstanding business with incredible employees. Jason. is an amazing teacher who cares about his students and genuinely wants to see them succeed. I feel like I have learned more in 7 weeks than I have when in a classroom for a semester. Without Elite Tutoring and Jason, I wouldn't have the confidence or skills to go and pass my CHSPE, which will allow me to go further in my acting career.  I am  thankful for Elite Tutoring. If you are looking to pass, go to Elite Tutoring fast.
Cole R. – 11th Grader (Los Angeles CA)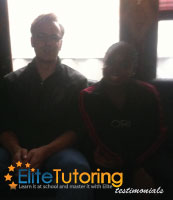 My tutor Nate from Elite Tutoring was awesome! Not only was easy to work with, he made me feel really comfortable. I appreciate everyone at Elite accommodating my crazy tour schedule and even having Nate come on the road with us!


I'd recommend this tutoring service to anyone in need of some homework help
Cori B. – 6th Grader/Singer (Los Angeles CA)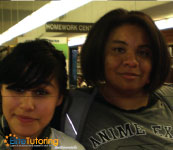 My experience at tutoring was very exciting. I learned things I never knew before like Irish History and the origins of Easter. I also read exciting poems. I had a fun experience with K.C. She's a fun tutor. She makes you laugh and she is so kind. Thanks to her I learned cursive, a little bit of French, and so much more. Thank you K.C. for your support and patience.
Angelica W. – 12th Grader (Los Angeles CA)
"We love the tutor and I like that I paid Elite for a set amount of hours and then they found a tutor who lives very nearby me and has a flexible schedule. We were going to a tutoring center before and if my son didn't happen to have anything to work on for our scheduled appointment then it was wasted money because they wouldn't reschedule if it was within 48 hours (which we never knew what work he had until the day of) I wish I could advise you on whether their tutors can work on test prep rather than simply test material. You do get that free trial hour though so you can probably get a sense in that hour of whether the tutor they send seems to be the right fit. I CAN say that Elite listened to all of my needs and seemed to have found the perfect tutor for our situation."
Cassandra B. – Parent (Burbank CA)